Starting from a struggling gig to growing a lasting legacy with the Trillion Dollar Secret, Karwanna D has made waves in the industry as a certified business coach specializing in government contracting for small businesses. She is an author, motivational speaker, and entrepreneur with the skill and determination to help other women and minorities to earn a consistent and sustainable income through government contracting.
The secret to government contracting is one of the best-kept secrets among a select few, but Karwanna believes that you deserve to know the plain TRUTH. So, what was it that made Karwanna so passionate about helping women and minorities in landing their first-ever 5, 6, or 7-figure government contract?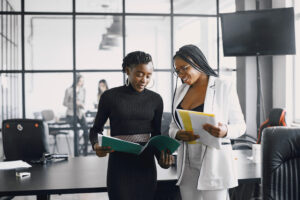 Karwanna D uses the Trillion Dollar Secret to help small businesses land government contracts in just 6-12 months. Her mentorship is not your average business dealing, it is a transformational process. She makes a greater impact on the lives of her clients by making them recognize their own value and teaching them more about their own expertise and how much they are leaving on the table as a small business. It is a strategy of recapturing all the available revenue while doubling, tripling, and quadrupling their results in business.
She is ready to make a lasting impact on your small business through her mentoring methods.
Her story is an inspiration to many and this time around, she is ready to reveal her story in BizBoost Magazine! 
The latest issue of the BizBoost Magazine is here to spill the tea about what makes HER stand out and recognize how SHE can help YOU.
Find out what you can gain from government contracts for yourself as a small business owner. Discover how Karwanna D overcame numerous challenges to finally succeed in her professional career. Read the latest about the trials and tribulations of entrepreneurship, landing government contracts, and how you can secure millions for your small business. In their #6 issue, the BizBoost Magazine explores the past, present, and future of the founder of the Trillion Dollar Secret, Karwanna D. The answer to all your questions is just one click away! 
If you're looking to venture out into the deep waters of government contracting, don't forget to check out TrillionDollarGovernmentContracts.com to make your journey in business a lot easier.